Celebrating Valentine's Day can be so much fun if you do it together as a family!
My husband and I aren't really into Valentine's Day. Our anniversary is in February and we always go out for our anniversary, so we never go out for a date on Valentine's Day. It's always too crowded and too expensive anyways. We would rather stay home and have a fun night with our kids.
Children love to celebrate Valentine's Day and I found that it can be so much fun to create a special themed family fun night night for everyone on Valentine's Day. I wanted to share with you some awesome ideas to have your own special stay at home Valentine's Day Family Night in the comfort of your own home!
Special Dinner and Desserts:
When I think of Valentine's Day meals I think of soft lighting, pretty decor and good food. There are so many ways you can have a nice fancy meal with your children that they will love!
Fancy Italian Dinner:
My kids love Italian food. So we usually make garlic bread, a fancy salad and a huge pan of lasagna or baked ziti with extra sauce to dip bread in! I'll even make a little olive oil dip with parmesan and italian seasonings to dip bread in. It's just like the fancy Italian restaurants. You can also purchase the cutest little mini desserts at the grocery store bakery. They usually have mini chocolate dipped cannolis, mini cheesecakes, brownies and fruit tarts. My kids love those and know they are a special treat. We will even break out our good china that we use on special occasions.
Fondue Family Fun Night – this post has tons of recipes and fun ideas to create your very own fondue night.


Fancy Family Valentine's Dinner from Emmy Mom – this is such a cute post full of fun ideas for a fancy family dinner. They even dressed up!

Cupid's Crazy Cafe: A Family Valentine's Day Dinner from The Dating Divas – Now, this is no ordinary menu! In fact, your kiddos won't even know what they're ordering. Instead of actual food names, you'll be using Valentine code words!

Here is another great post if you are looking for fun heart shaped and Valentine's themed meal and recipe ideas!
30 + Valentine's Day Recipes for the Whole Family

Fun Family Games and Activities:
A family fun night isn't complete without some really fun and downright silly games! Here are some great ones:
Love is Contagious Family Fun Night from One She Two She – this is a sweet family fun night that includes a mini devotional, object lesson, printables and fun games!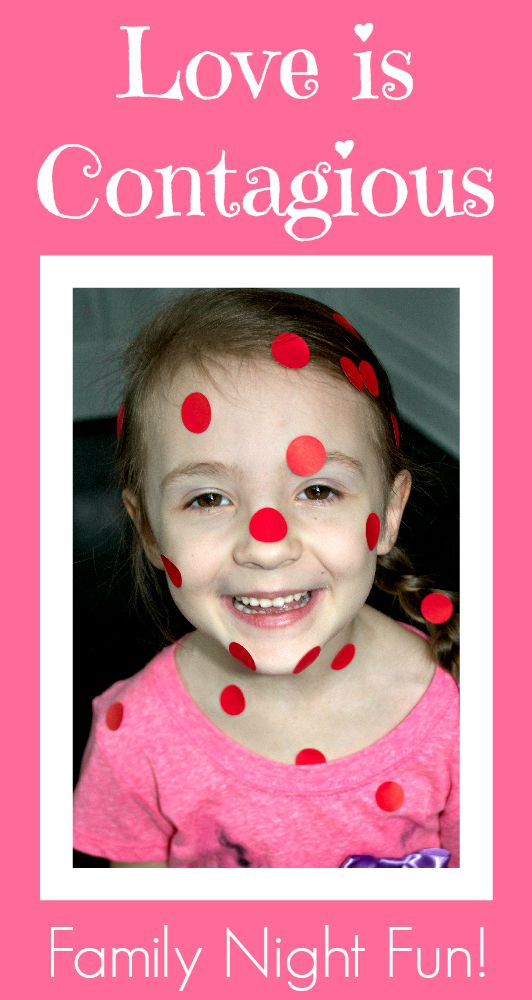 Musical Hearts Game from No Time for Flashcards – this fun game will help your little ones get their wiggles out for the evening and help them with their gross motor skills at the same time. There are lots of fun ideas on how to play this game including a video on how to play.


Valentine's HedBanz Game from The Crafty Chicks – Hedbanz is such a fun game to play! This free download has 18 Valentine's themed cards. The download contains 2 pages of cards, and 1 page to be printed on the back of the cards.

Valentine's Day Scavenger Hunt for the Whole Family from The Dating Divas – this is a really fun idea with detailed directions and FREE printables!

Family Fun Night Conversation Hearts from Not Consumed – I love this idea. It uses those cheap conversation hearts you can pick up from the dollar store and is full of fun game ideas!

If you have small children and toddlers you may want to put together some fun Valentine's themed sensory bins for all of you to play with:
Valentine's Day Sensory Bin Ideas

Sarah is a wife, daughter of the King and Mama to 4 children (one who is a homeschool graduate)! She is a an eclectic, Charlotte Mason style homeschooler that has been homeschooling for almost 20 years.. She is still trying to find the balance between work and keeping a home and says she can only do it by the Grace of God, and Coffee!