Do you have trouble with keeping your house clean? A cleaning schedule can help with that!
I want to be honest with you all and let you know that I am not a pro in this area at all. I am writing this post to myself just as much as to anyone else who may need to read it. My house is a disaster. I always feel like I am behind and that I can never catch up. I can never seem to keep it clean for more than half of a day!
There was a time in my life when my house stayed relatively clean, where I didn't worry about someone showing up unexpected. I had no problem hosting events on a short notice. Those were the days. The days when I actually had a cleaning schedule and I stuck with it! If I don't have a cleaning schedule, than I am just winging it most weeks and not much gets accomplished.

Here are some ways to create a cleaning schedule and stick to it:
Create your own: 
Years ago, before the days of Pinterest, I came up with my own cleaning schedule. I created an Excel file with chores for each day of the week. I based it upon which days we would be home the longest, and which days we were gone for homeschool co-ops, appts. etc… those days would be a lighter chore load. The more children I had, the busier we got, and it became hard to stick to the schedule because it was constantly changing. I wish I still had that schedule. It worked great, but I since got a new computer and it got lost. It may be helpful to create your own if you aren't home a lot and in and out with different activities.
Find a schedule that will work for you:
This can be tricky, but I promise you there will be something out there for you! Sometimes when you are first starting off you will just need to find something simple.
Fortunately, there are many, many FREE cleaning schedules out there to choose from.

Here are some of my favorites:
Blank Printable Schedule from DIY Home Sweet Home – this is great if you want to create your own!
Printable Housekeeping Schedule from The Time Warp Wife
5 Minute Fixes from Clean Mama – this is great if you just need to find somewhere to start, and to get used to doing a daily clean up.
The Perfect Daily Cleaning Schedule: 8 Step Guide plus FREE Printable from Eliza Ellis
FREE Monthly/Quarterly/Annually Cleaning Checklists from Homeschoolin' Mama
A Clean Home Everyday Printable Checklist from Simply Kierste
Simple Daily Homemaking Schedule from Smile Like You Mean It

Weekly Cleaning Routine FREE Printable Checklist
from 
Happy Money Saver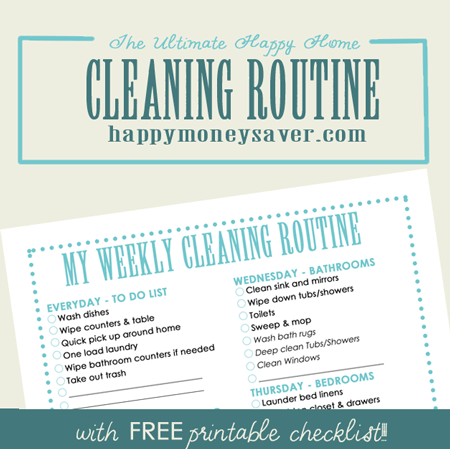 FREE Printable Monthly Cleaning Checklist
from
Strawberry Mommycakes
Simple Chore Chart and Household Management
from
Not Consumed

How to stick with it:
Find Accountability:
It is hard to make a habit. You may need to find an accountability partner to help you to stick with your new routine and schedule. This could be a trusted friend, your husband or even your kids. I have found that my kids can be a great help if I openly share with them the struggle and what we are doing to remedy it. I have one daughter who is on top of things and will help me to remember to get things done!
Hang it up:
Hang up your schedule in multiple places, ALL over the house, until you are sick of looking at it! When I start a new schedule I hang it in the hallway, the bathroom, on our school board and in two separate spaces in the kitchen! When the schedule is everywhere I turn, there are no excuses, and the entire family can be reminded to get to cleaning!
Here are some other posts that may help you on your journey to a clean home:
Our Once a Weekend Laundry Plan

How We Make Months of Cleaning Products in One Afternoon

Sarah is a wife, daughter of the King and Mama to 4 children (one who is a homeschool graduate)! She is a an eclectic, Charlotte Mason style homeschooler that has been homeschooling for almost 20 years.. She is still trying to find the balance between work and keeping a home and says she can only do it by the Grace of God, and Coffee!