Have you been wanting to focus on memorizing more Scripture in your home?

I am not a big New Year's resolution type of person. However, I do like to look back on the past year and look ahead to the new year to evaluate things I want to improve on. One of the main things I realized when doing my personal evaluation is that we needed to work on memorizing  more scripture in our home. I always start off to a great start in a new school year with Bible time and Bible verse time and then somehow it just fizzles away through the holidays and towards the end of the calendar year. (please tell me I'm not the only one?!)
Maybe you struggle with time management or a good morning routine. Maybe you aren't sure where to begin and that's why you haven't. It's okay. Bring it to the Lord and ask for His help in following through and you will be surprised at what you can accomplish!
If you aren't sure where to begin, here are some tips and ideas for memorizing scripture that may help you get started:
The first thing you need to do is pick a verse or set of verses that you would like to memorize.
Sometimes this can be overwhelming. There are lots of FREE Printable scripture cards available online that can help you. It's a great place to start.
Here are some FREE Printable Scripture Cards:
12 Scripture Verse Cards for the Homeschool Mom from Blessed Beyond a Doubt
Illustrated Bible Verse Cards for kids from The Imperfect Homemaker
52 Weeks of Printable Scripture Cards for Family Memorization also from the Imperfect Homemaker
Printable Bible Verse Flash Cards for Toddlers from Sisters Raising Sisters

The Blogging Pastor's Wife has lots of Printable Memory Verse Cards by theme:
Printable Memory Verse Cards Jonah Theme
Love Memory Verse Cards
Joy Memory Verse Cards 
Easter Memory Verse Cards
Psalm 34 and 37 Memory Verse Cards
Temptation Memory Verse Cards

Pick a Memorization Method that works for you:
If you are a Charlotte Mason homeschooler you will love the Charlotte Mason Scripture Memory System! 
Simply Charlotte Mason has some great helps to get you started using this method. There is a List of Suggested Verses if you don't know where to start, FREE Printable Verse Cards and even a step-by-step video showing you exactly how this system works.
Make a mini flip-book of verses you are working on.
This has worked great for us, though I do want to try the Charlotte Mason method as it has review built right into it to make it easier to review the old verses you have memorized. I use a spiral bound notebook for this. If we are memorizing large passages, I write the verses in them into chunks and we work on one "chunk" at a time. We add to it each day until we have the entire verse memorized.
I also have my own personal mini book made from a $1.00 index card book. I keep this near me when I do my Bible Study and find a verse that speaks to my heart that I want to memorize. I will then write it in my flip book to work on for that week/month. I encourage you to have something that is personal just for you!
Here is the cover of mine. I used some scraps of scrapbook paper and some foam stickers.

You can also glue scripture cards to the inside of the pages as well as hand write them. I had a bunch of scripture cards I had picked up from a Christian bookstore with verses that I loved. They are pretty too!


Learn your verses in song form:
This is great for auditory learners and those who love music. It makes it so much easier to memorize, when you are singing a song, and you will find yourself singing your Bible Verses all day long! 
Here is a great post that has over 1,400 songs:
The Ultimate List of Bible Memory Songs: The Psalms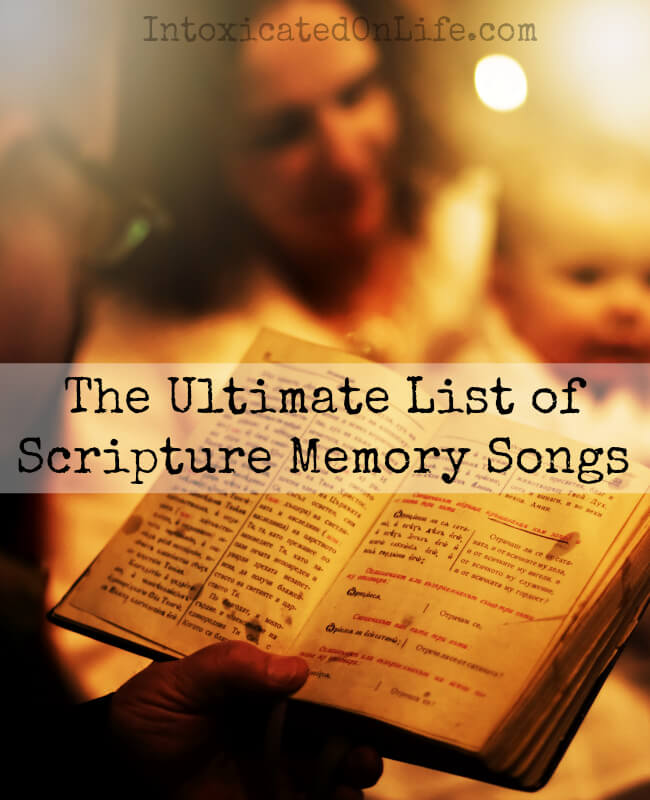 Here are some great scripture memory cds that we love. These are great to put on when you are driving:
Some other tips and ideas to help you with memorizing scripture:
FREE Scripture Memory Log Printable from the Proverbial Homemaker – You can plan ahead a month or a week at a time, writing down the verses you plan to learn and checking them off as you go.
Download a Bible Memory System App:
Remember Me is ideal for learning and managing your own collections of Scripture verses, poems, quotes, thoughts, vocabulary, speeches, and other pieces of text. There are multiple study methods included to use to mix things up.
Scripture Typer makes Bible memory fun and easy way. You can import Bible verses and store them in your own database or choose from lists of popular verses. It's pretty cool!
I pray that you have a blessed year and can come up with some great strategies to help your family to memorize more scripture this year!
Sarah is a wife, daughter of the King and Mama to 4 children (one who is a homeschool graduate)! She is a an eclectic, Charlotte Mason style homeschooler that has been homeschooling for over 16 years now. She is still trying to find the balance between work and keeping a home and says she can only do it by the Grace of God, and Coffee!