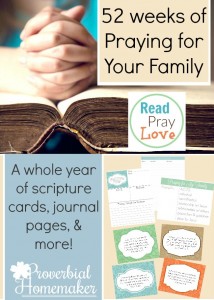 Do you want to pray more intentionally for your family this year? Download the FREE Read, Pray, Love system at Proverbial Homemaker!
This printable is over 90 pages and comes in ESV and KJV versions. Here's what is included:
– Simple Bible reading checklist
– Scripture memory checklist
– 52 weeks of scripture cards
– 52 corresponding prayer journal pages
– Dividers and instructions for making a prayer flip book
– More!
Print out Read, Pray, Love and set up a 3-ring binder for your prayer journal pages. The scripture cards can be added as well or cut and laminated. OR you can add them to a photo book and create an easy flip book for quick prayers/scripture memory.
Download the Printable and Start Praying for Your Family!
Carrie is the owner & operator of Homeschool Giveaways. She has been homeschooling for over a decade and has successfully graduated her first homeschooler. She has two girls and works side by side at home with her awesome husband. She has been saved by grace, fails daily, but continues to strive toward the prize of the high calling of being a daughter of the Most High God.