Are you looking for a creative idea for a Family Fun Night at your house?
We like to do family date nights out. Usually we will go to Chick-fil-a, a movie, or a favorite restaurant. Sometimes when the budget is tight and for a change of pace, we like to come up with some fun activities to do at home. Fondue places like The Melting Pot are pretty popular around here, but they are pricey, and are great for a date night out, but probably not so much with a bunch of kids! I thought it would be fun to give you all some ideas to create your very own Fondue Family Fun Night at home! This would be great to do for a special celebration, a birthday dinner, or just for fun!
First you will need some fondue supplies:
I prefer electric fondue pots because they are really simple and just plug into the wall. There is nothing extra needed and no open flame. You can even use a little dipper crockpot!
Next, you will need some awesome fondue recipes! Here are some favorites:
Cheese Fondue – there are so many different types of cheese dips you can make.
Classic Cheese Fondue Recipe from Well Plated
Roasted Garlic Cheese Fondue from Girl in the Little Red Kitchen
French Onion Fondue from Land O Lakes
Three Cheese Fondue from Betty Crocker
Havarti Cheddar Fondue from Betty Crocker
Cheesy Roasted Jalapeno Fondue from Tori Avey
Crockpot Cheese Fondue Recipe from Todays Creative Life
Melting Pot Cheddar Cheese Fondue from Copy Kat
Spinach Artichoke Fondue from I Wash You Dry

Dippers for cheese – the kids can help with all the chopping.
There are so many yummy dippers for cheese fondue:

Lightly steamed veggies
Chopped apples
Cooked sausage slices
Cubed bread like french bread and sour dough
Pretzel crisps
Soft pretzels
Cooked steak
Cooked chicken
Sliced peppers
button mushroom
Meat Fondue – use cooked steak and chicken or cooked shrimp to dip into these yummy broths for the main course or cook your own meat in these broth fondues. Meat also goes great with cheese fondue.
The Melting Pot Mojo Fondue Broth from Food.com
Roasted Garlic Broth Fondue from Ricardo Cuisine
Coq Au Vine Fondue Broth from The Everything + Soap Blog
Beef Fondue with Sauces from Taste of Home
Beef Fondue Dipping Sauces from Pillsbury
Chicken Fondue from Pillsbury


Dessert Fondue – this is the easiest and most loved fondue!
Candy Bar Fondue from The Magical Slow Cooker
Easy Smores Fondue from Renee's Kitchen Adventures
3 Ingredient Salted Caramel Fondue from  Creme de la Crumb
Little Dipper Crockpot Chocolate Fondue from A Year of Slow Cooking
Cookies and Cream Fondue from High Heels and Grills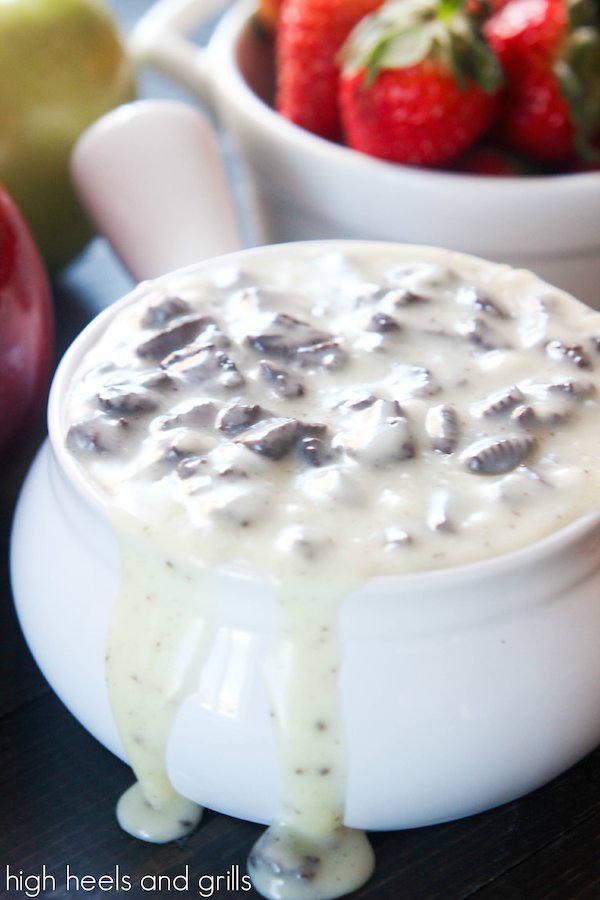 Slow Cooker Melted Chocolate for dippers from The Yummy Life – I love this idea!


Dessert Dippers:
Strawberries
Pineapple
Biscotti cookies
Bacon!
Marshmallows
Cheesecake chunks
Twinkies
Brownies
Pretzel sticks
Rice krispie treats
Soft pretzels
Fondue Family Night can be a great way to try new things and have a fun, culinary experience with the whole family!
Sarah is a wife, daughter of the King and Mama to 4 children (one who is a homeschool graduate)! She is a an eclectic, Charlotte Mason style homeschooler that has been homeschooling for almost 20 years.. She is still trying to find the balance between work and keeping a home and says she can only do it by the Grace of God, and Coffee!