Flu and cold season is right around the corner, for some of us it is already here. Are you prepared?
I love using natural remedies to help us when we are sick. Did you know that there are also many natural remedies that can help boost your immune system and prevent illness as well? Elderberry is one of those amazing berries that can help to boost your immune system and also help you to get better faster when you are sick!
Here is an awesome infographic from Grow Real Food that gives all the amazing benefits of these tiny, dark purple berries! Make sure you notice the note on the bottom, about not eating them raw!

Here is a great article from Herb Wisdom that explains about The Benefits of Elderberry (Sambucus Nigra).
When I first found out about elderberries I was so excited because I knew they were local to North Florida! They grow wild out here and I have always wanted to go and pick them. One day we were lucky enough to see some growing up in the back part of our yard. Now we have quite a few large elderberry trees that we can pick from each year. You can dry the berries and save them for later or you can cook them and make jellies, jams and elderberry wine or elderberry syrup. I have only ever made elderberry syrup. There are so many different recipes out there to choose from. I thought I would share some of my favorites with you!
Homemade Elderberry Syrup Recipes:
Elderberry Winter Tonic Syrup with Fresh Elderberries from And Here We Are – this is a great tutorial on how to make syrup with fresh picked berries.
How to Make an Elderberry Extract  from Little Owl Crunchy Momma – an extract lasts longer than a syrup because of the alcohol. The long shelf life makes it ideal when you need to pull it out in a pinch and don't have time to make a fresh batch of syrup.
Elderberry Echinacea Syrup from Crunchy Betty – This is a great recipe that adds some extra immune boosting properties by adding echinacea herbs or tea.
Easy Homemade Elderberry Syrup from Alexa Organics – this is a simple recipe using dried elderberries.
Immune Boosting Elderberry for the Pantry Shelf by Reformation Acres – this recipe is designed for canning your own syrup for long term storage. This would be a great weekend project with friends. 
How to Make Elderberry Syrup for Flu Prevention from The Wellness Mama.
This is the first recipe I ever tried. I just love the video tutorial. It is so helpful and fun to watch!

Fun Recipes Using Homemade Elderberry Syrup:
Immune Boosting Elderberry Gummies from Craftaholics Anonomyous – I love this idea of making homemade gummnies for kids that don't like to take "medicine".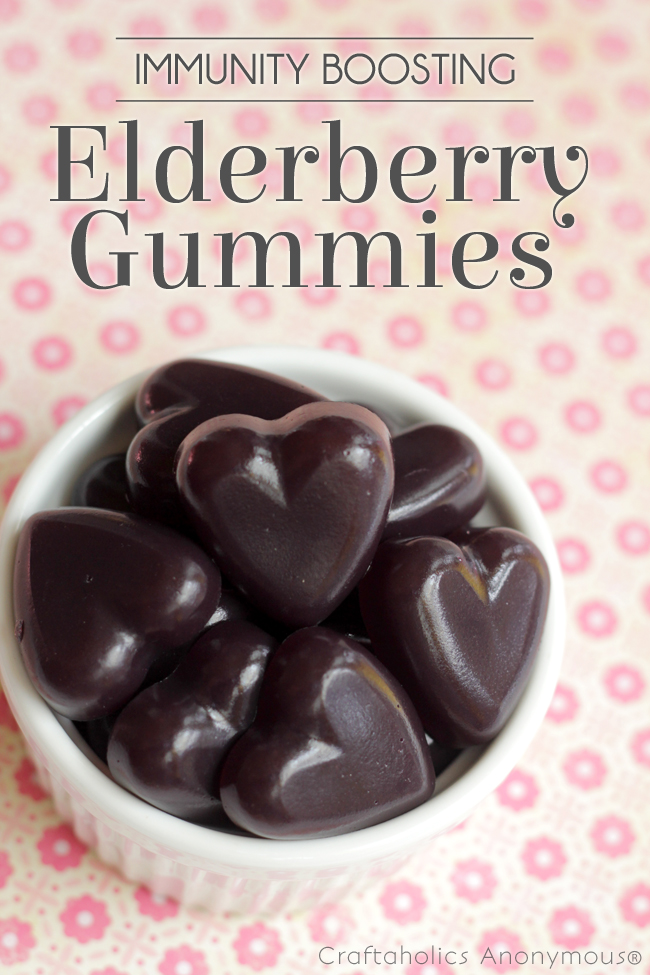 Elderberry Gummies for Cold, Flu AND Sleep from Real Food RN – this recipe for gummies uses tart cherry juice with the elderberry syrup to help aid sleep!


Elderberry Juice Pops from Back to the Book Nutrition – I love the idea of taking homemade syrup and turning it into a popsicle! Great for fevers and sore throats!

If you would like to try to make your own elderberry syrup you can get your berries here:
Whole Organic Elderberries

I love making natural medicine for my family. Working with herbs and natural remedies in the kitchen is always so calming to me. I hope you enjoy it too!

Sarah is a wife, daughter of the King and Mama to 4 children (one who is a homeschool graduate)! She is a an eclectic, Charlotte Mason style homeschooler that has been homeschooling for almost 20 years.. She is still trying to find the balance between work and keeping a home and says she can only do it by the Grace of God, and Coffee!