Have you considered using Cast Iron Cookware in your home?
About 7 years ago I really started to research more healthy, natural alternatives for my family. I had no idea what I was going to learn about when I started my initial research. It was overwhelming to say the least! It seems like everything out there is harmful in one way or another.
One of the first things that I learned about was how harmful non-stick cookware like Teflon coated pans could be. I panicked when I realized how toxic the fumes were and I immediately threw all my pans out! Of course, that left me in a predicament as all we had left were some stainless steel pots. My husband wanted to know how we were ever going to cook eggs again! I had never grown up using cast iron, but my husband had a Grandma that cooked in cast iron and he remembered how great her food tasted. We decided to give it a try. One day he came home from Walmart with a stack of Lodge Cast Iron Skillets. I remember the first time I cooked on one. Food stuck everywhere! It was such a mess and I had no idea how to care for it.
Thus began hours and hours of research, trial and error. I am going to share with you why cast iron is so great and some awesome Tips, Tricks and How To's for using cast iron in your cooking. Not all of these are my own personal tricks and tips, but some great things I have found online that have been so helpful to me!
Benefits of Cast Iron Skillets:
1. They do not emit toxic fumes into your home!
2. When they are properly cared for and well seasoned they become naturally non stick.
3. You can put them right in the oven no matter the temperature. They can go on top of hot coals too!
4. Did you know that if you use cast iron regularly it can help boost your iron levels?
5. They can replace a baking dish! You can bake cornbread, flatbreads, and even pizza in them.
6. They brown foods beautifully.
7. Don't have a grill? You can use them as a grill to grill steaks, chicken, fish and pork chops!
8. Need to fry something? They work great as a fryer!
9. You can use metal utensils in them! No more worrying about scraping the Teflon if you use a fork or metal tongs to flip a piece of bacon
10. They can also make a good weapon. Anyone seen Tangled?!?
Tips, Tricks and How – To's:
I found quite a few different ways to care for cast iron. There are lots of different methods, but they all still work, it's just your preference!

Cast Iron 101:Basic Cleaning and Seasoning Techniques – this uses the oven method to season them.
How to Season a Cast Iron Skillet from Southern Plate – I like how they tell you to wash your brand new pans with soap first and get them nice and clean before seasoning them. I even season the "seasoned" cast iron pans as they are not really seasoned enough to become non stick. This method uses the stovetop and not the oven to season them.
Repairing a Cast Iron Skillet from Macheesmo – if you happen to be lucky to find a cast iron skillet at a thrift store or garage sale they can be repaired. Maybe you have a skillet that wasn't taken well care of, that can be fixed too!
The Chemistry of Cast Iron Seasoning: A Science Based How – To from Sheryl's Blog – this is such an interesting article that talks about the science of using flax seed oil to season your pans.
How to Clean a Cast Iron Skillet from A Spicy Perspective – once you have your skillet nice and seasoned you  need to make sure you clean it properly, so you don't wear the seasoning off. 
Cooking Like Nanny – the ten commandments for cast iron care by The Southern Living Year – great article and a yummy looking steak recipe!
How to use and properly maintain your precious cast iron skillet – I love this cute infographic. You can enlarge it HERE and print it out. Keep it somewhere in your kitchen!

Now that you know how to season, repair and maintain your cast iron let's get cooking!
Here are some really awesome things to do with your cast iron skillet:
How to cook the perfect steak in a cast iron skillet from The Rising Spoon
Cast Iron Skillet Biscuits from Becca Bakes
How to make non stick eggs in a cast iron skillet from The Prairie Homestead
Perfect Homemade Cast Iron Skillet Pizza from Don't Waste the Crumbs – doesn't it look amazing?!?!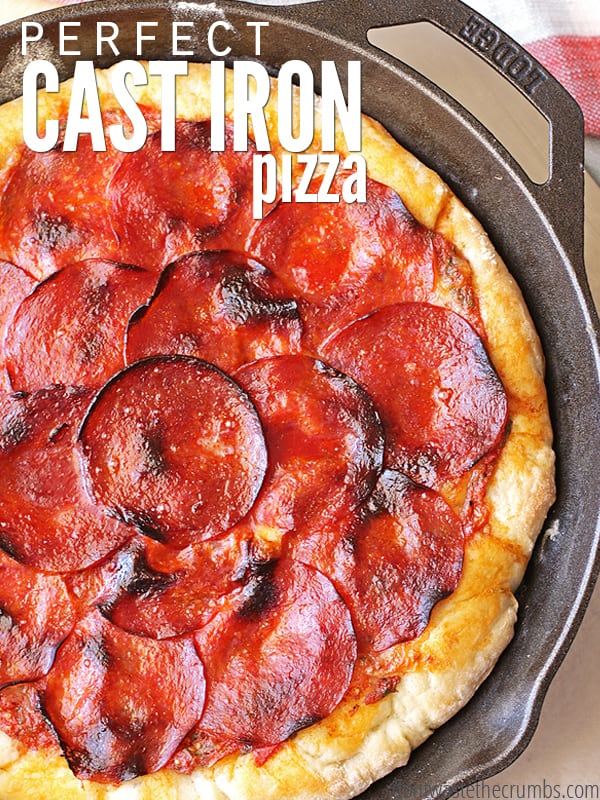 Baked Macaroni and Cheese from The Country Contessa – this would look like a centerpiece on the kitchen table! 

Apple Crisp Baked in a Cast Iron Skillet from Buns in My Oven – what an amazing use of cast iron!

Now I'm sure you want your own cast iron right now! You can scour garage sales and thrift stores for them or if you prefer brand new I have found Walmart to have the best prices. They sell the Lodge brand which is made in the USA which I love! The prices for skillets on Amazon right now are not as cheap as Walmart that's why I didn't post any links to them. They do however, have some amazing prices on Cast Iron Dutch Ovens, griddles (which I love for tortillas and pancakes), and cookbooks!
Check out the deals I have found:
You may also enjoy this post (most of these recipes use a Cast Iron Dutch Oven):
Warm and Easy One Pot Meals for Fall

Sarah is a wife, daughter of the King and Mama to 4 children (one who is a homeschool graduate)! She is a an eclectic, Charlotte Mason style homeschooler that has been homeschooling for over 16 years now. She is still trying to find the balance between work and keeping a home and says she can only do it by the Grace of God, and Coffee!