It is especially important to learn about bird anatomy and bird field marks if you are going to be a birder. Some birds can be so similar, that one tiny, little field mark will make a huge difference in identifying a specific bird. We've rounded up more than two dozen FREE resources and printables to help you and your kids learn more about bird anatomy.
Field Marks and Bird Anatomy Information:
Field Marks from All About Birds – The Cornell Lab of Ornithology
Interactive Bird Topography (Bird Mapping) from Kid Wings
Diagrams of Bird Markings Guide from Better Homes and Gardens.
Mother Nature's Pop Science Guide to Birds Infographic 1:Bird Anatomy and Color
Mother Nature's Pop Science Guide to Birds Infographic 2: Beaks and Wings

Printables:
Bird Anatomy Labeling Page Printable from Exploring Nature
Match the Birds beak to the food they are adapted to from Exploring Nature
Label the External Bird Anatomy from Enchanted Learning
Bird and Beaks Free Printable Montessori Cards from Montessori Print Shop
Parts of a Bird Mini Printable Book from Little Wonders' Days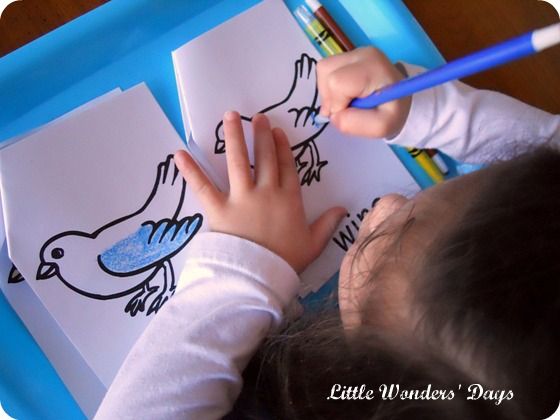 Unit Studies and Lesson Plans:
Anatomy of a Bird Unit Study from Lesson Pathways
Bird Beaks and Feet Lesson and Data Table from Biology Corner
Respiratory Systems of Birds – differences between Avian and Mammalian Respiratory from Pet Education.
Bird Beaks – Bird Adaptation Photos
Bird Beaks Lesson from Science NetLinks
Secret of Bird Flight Revealed from Live Science
Bird Feathers Lesson from Kid Wings
Bird Beaks Lesson from Kid Wings
Bird Feet from Kid Wings
Bird Skulls from Kid Wings
Why Woodpeckers Don't Get Concussions from Mother Nature Network. My kids really enjoyed this article, super interesting and amazing how God designed their skulls.

Crafts and Hands On Activities:
Bird Adaptations Experiment with data sheet from Ashleigh's Education Journey.
Bird Beaks and What They Eat Fine Motor Skills Activity from Deceptively Educational.
Beak Speaks Talking Bird Beak Card from Crayola.
Bird Beak Masks from Mouth of Mums
DIY Bird Wings from Paging Fun Mums – have your child make their own bird wings for dress up play. Beautiful!


Here are some great books on feathers, wings and flight:
Sarah is a wife, daughter of the King and Mama to 4 children (one who is a homeschool graduate)! She is a an eclectic, Charlotte Mason style homeschooler that has been homeschooling for over 16 years now. She is still trying to find the balance between work and keeping a home and says she can only do it by the Grace of God, and Coffee!