Spring is upon us and summer seems to be right around the corner! What a great time to send your kids outside for some free play.
Here in North Florida, we didn't have a rough winter with snow like many other states, but it did freeze a few times! As soon as it starts to warm up just a bit my kids are immediately wanting to go outside and play. I love sending them outside to play and it's fun to watch them explore and come up with their own games. I have one child that gets hot easily and wants to come in after playing for only 5 or 10 minutes. 
I have another who has a short attention span and will  get bored easily and want to do something else. There have been many fights erputing outback over who gets to play what and what they are going to do next. To stop the battle and the constant coming in and out and slamming of the back door, I have compiled a fun list for you to use with your kids!
20 Ideas for Nature Inspired Outdoor Free Play:
1. Make a Nature Face – I love this cute idea from Make and Takes!
2. Make a Bird Nest idea from Play In A New Way Gather Twigs, branches, moss, grass clippings and other natural materials to build your own bird nest with. 
3. Bark Rubbings from The Seasoned Mom – the only thing you need is paper and crayons and a nice tree!
4. Mini Outdoor Dens from Mummy Mummy Mum – these are cute little creations you can make from sticks and use toys to play with.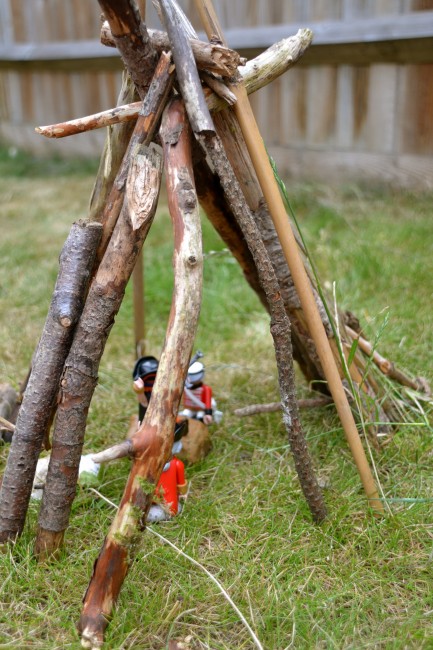 5. Make a Mud Kitchen from Muddy Faces – directions and ideas on how to make an outdoor play kitchen for playing with mud!
6. Create a Crown of Leaves – from Red Ted Art – have your kids make their own nature inspired crown out of leaves.
7. Pinecone Bowling – from Red Ted Art – Play a game of bowling with pinecones and acorns!
8. Counting and Sorting with natural materials from  Red Ted Art.
9. Collect Natural Art Materials – my kids love to collect pine cones and little acorns. We use these to make centerpieces for the holidays or to hot glue gun onto picture frames.
10.  Go Outside Cards from Creative Family Fun  – Printable Cards to give your kids to add to their creative outdoor play time.

11. Collect Flowers (or Weeds) – my girls love to bring me dandelion tops and daisies and any wild flower weed they can find. They also like to decorate tables with them.
12. Build a Fort or a Shelter – this post from Playing With Sticks has great ideas and some amazing photos for building forts or shelters in nature. 
13. Explore Textures With An Outdoor Scavenger Hunt from Hands On As We Grow
14. Create Shapes Out of Rocks and other fun games from Mamas Like Me.
15. Tend to a Garden – we have a seasonal garden and everytime my kids are outside they know to go and check on it. They will harvest fresh fruits or vegetables or search for bugs that they need to pick off the plants. They always have so much fun tending and caring for their plants.
16. Sketch in a Nature Journal – Have your kids take some paper and colored pencils out and find an object to sketch!
17.Build a Bird Hide for Wildlife Observation and Fun from MotherNatured.This is something an adult will need to help build, but once it's up this would be a great outdoor free play area!
18. Lay a Sheet and Shake a Tree  fun bug observation activity from Mother Natured.
19. Garden Soup from Happy Hooligans is a fun water sensory play idea using flowers and leaves from the garden!

20. Collect Materials for a nature table. You can designate a spot on your back porch for these materials or you can create your own Nature Table for inside your home. If you don't have room for one, see how we do it here:
Portable Nature Center: How to keep a nature table when you don't have the space

Sarah is a wife, daughter of the King and Mama to 4 children (one who is a homeschool graduate)! She is a an eclectic, Charlotte Mason style homeschooler that has been homeschooling for over 16 years now. She is still trying to find the balance between work and keeping a home and says she can only do it by the Grace of God, and Coffee!