The folks over at Greenfield Education are giving away two Easter gifts to their readers.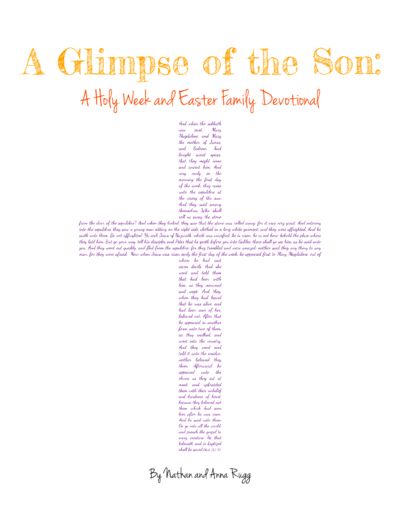 First, A Glimpse of the Son: A Holy Week and Easter Family Devotional which takes a look at Christ's final days on earth, death, and resurrection. This devotional is written in a way to be applicable to the whole family and includes scripture readings, thoughts on the passage, discussion questions, activities, songs, and many free printable resources.
Secondly, they are giving away a series of Greenfield Readers. The Resurrection Story Levels 1-4 allow the earliest reader to enjoy the story in bite sized chunks, learning words like Jesus, hosanna, donkey and more, and increase in difficulty to the full text of selected scripture in Level 4.
Find out all of the details over at Greenfield Education.
Carrie is the owner & operator of Homeschool Giveaways. She has been homeschooling for over a decade and has successfully graduated her first homeschooler. She has two girls and works side by side at home with her awesome husband. She has been saved by grace, fails daily, but continues to strive toward the prize of the high calling of being a daughter of the Most High God.