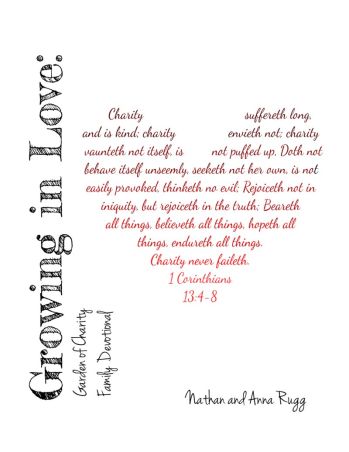 To celebrate Valentine's Day and the Release of their Easter Family Devotional, Greenfield Education is giving away the PDF version of their popular Growing in Love: Garden of Charity Family Devotional from now through February 15, 2015.
Take an in depth look at what true love really means through scripture readings, songs, discussion questions, activities, and bonus printable decorations with this seven-day devotional.
Greenfield Education's Family Devotionals are concise but include options for many levels of activities and questions to get the whole family involved.
Head over to the Greefield Education blog to see all of the details and download your free family devotional.
Carrie is the owner & operator of Homeschool Giveaways. She has been homeschooling for over a decade and has successfully graduated her first homeschooler. She has two girls and works side by side at home with her awesome husband. She has been saved by grace, fails daily, but continues to strive toward the prize of the high calling of being a daughter of the Most High God.