Are you looking for special fall treats that are healthy and yummy?!?
I am not much of a baker. I really enjoy cooking from scratch but baking just stresses me out! It is also what my kids ask for the most! They LOVE to mix and bake things. Summer time in Florida is too hot to have the oven running, so I do bake… about two months out of the year! So get out the mixer, and clean a spot off the counter and open your windows for a nice Fall breeze! I have found some healthy treats that your whole family will love that taste good and are good for you! 
If you really want to up the healthy and homemade factor in your baking why don't you try making your own pumpkin puree?
Here is a great step by step photo tutorial on How to Cook a Whole Pumpkin to Make Puree by Heavenly Homemakers
Breads: ( I am including breakfast items in this category)

Pumpkin Crescent Rolls from Money Saving Mom ~ These decadent croissant style rolls have a beautiful golden color and you can't even tell they have pumpkin in them! They are sugar free too!
Whole Wheat Pumpkin Chocolate Chip Muffins by Heavenly Homemakers ~ This is a healthy, adapted recipe that uses sucanut in place of white sugar and whole wheat flour.
Simple Pumpkin Pie Bread by Simple Green Moms ~ This recipe uses your choice of honey, maple syrup or agave in place of sugar. 
Pumpkin Waffles from Super Healthy Kids ~ These beautiful golden colored waffles have no sugar in them!
Whole Wheat Pumpkin Donuts – by Heavenly Homemakers ~ This is another healthy real food makeover recipe adaptation. There is even a recipe for a yummy buttermilk glaze!
Pumpkin Applesauce Muffins from Southern In Law ~ These yummy muffins are sweetened with applesauce and honey!
Desserts:

Gluten Free Pumpkin Cake with Cream Cheese Frosting from Intoxicated on Life ~ This yummy cake is gluten free AND sugar free! This recipe uses xylitol and stevia!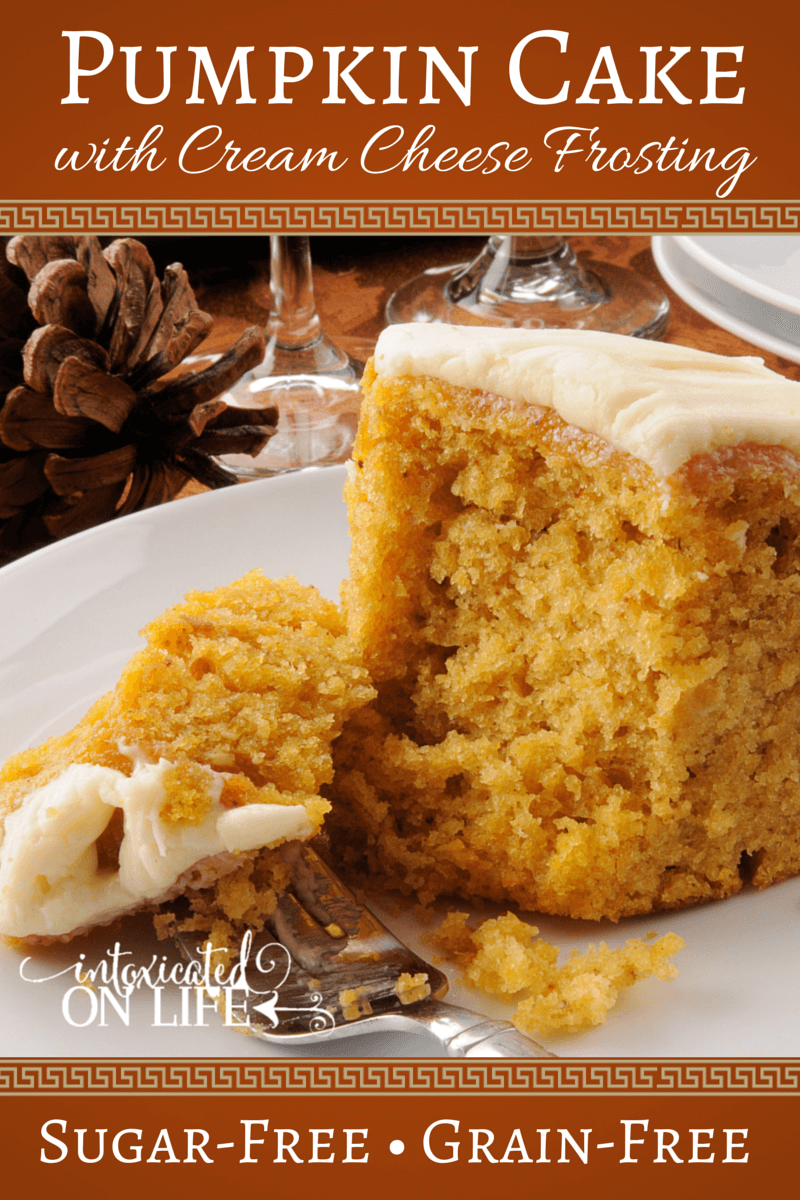 Pumpkin Bars ~ from Heavenly Homemakers ~ This recipe has the option to use sucanat or honey with the correct measurements for using a liquid vs. dry sugar.
Gluten Free Pumpkin Biscotti ~ from Gluten Free On a Shoestring ~ Biscottis are great for little hands and go well dunked in hot chocolate or coffee!
Healthy Pumpkin Chocolate Chip Oatmeal Cookies from Sally's Baking Addiction ~ These are low in sugar and fat!
Pumpkin Pie Larabars from Real Food Deals ~ We LOVE homemade larabars! These are high in protein and the only sugar comes from the dried dates!
A pumpkin recipe round up isn't complete without Pumpkin Pies:

Greek Yogurt Pumpkin Pie Bars from Baker by Nature ~ These are pumpkin pies in a bar form! They do have sugar in them but you could easily modify the amounts or replace with a natural sugar. I love that they have Greek yogurt for an extra punch of protein and probiotics!
Clean Eating Pumpkin Pie from The Gracious Pantry ~ This recipe uses honey in place of sugar.
Healthy Sugar Free Gluten Free Pumpkin Cheesecake from Eat Feel Fresh ~ This is sweetened with honey and the crust is made with almonds and coconut oil. YUMMY!
Paleo Pumpkin Pie from Ancestral Nutrition ~ This is made with coconut milk, honey and has a homemade crust!
Healthy Grain Free Pumpkin Cheescake from The Wellness Mama ~ This is very healthy and made with stevia.
Check out this post by Carrie, who is Gluten Free and LOVES pumpkin yummies:
Awesome Gluten Free Pumpkin Recipes (Tested and Picky Kid Approved)
Sarah is a wife, daughter of the King and Mama to 4 children (one who is a homeschool graduate)! She is a an eclectic, Charlotte Mason style homeschooler that has been homeschooling for over 16 years now. She is still trying to find the balance between work and keeping a home and says she can only do it by the Grace of God, and Coffee!