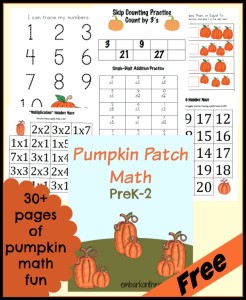 Embark on the Journey has a released a brand new math learning pack that's perfect for fall. This 30+ page Pumpkin Patch Math printable pack was created for grades PreK-2.
Inside this pack you'll find:
Count and Clip Cards
Skip Counting Puzzles
Addition, Subtraction, and Multiplication Practice
and more!
Carrie is the owner & operator of Homeschool Giveaways. She has been homeschooling for over a decade and has successfully graduated her first homeschooler. She has two girls and works side by side at home with her awesome husband. She has been saved by grace, fails daily, but continues to strive toward the prize of the high calling of being a daughter of the Most High God.