Supercharged Science has just published a new guidebook for parents to help make picking or organizing a good science curriculum easier. It's called "The 6 keys to picking a science curriculum that's right for you and your kids" and they want to give you a FREE copy!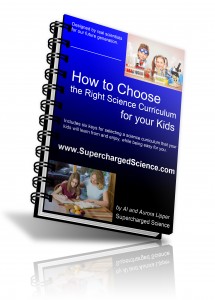 In this guidebook, you'll learn how to:
Choose or put together a self-guiding curriculum so your kids can do it on their own
Teach science well even if you don't have a science background
Make sure materials for experiments will be inexpensive and easy to get
Pick a curriculum with experiments that actually work (and how to know in advance). Hint: Many curriculums are written by academic writers who have never actually done any of the experiments they tell your kids to do.
Select a curriculum that will inspire your kids to want to do science (and avoid the ones that kids will roll their eyes at).
Identify curriculums that teach real world science (rather than just abstract academic fluff that doesn't really help your kids).
Plus lots more.
These are just a few of the key answers you'll find in this guide.
It doesn't take an Einstein to see what an important part of our world science education plays these days, and especially in our future. This guide will help you figure out which science curriculum will let you meet your goals best.
Aurora Lipper is the author of this book. She has been teaching science for over 15 years, worked for NASA, been on the faculty at California Polytechnic University and written over 15 award-winning science curriculums and programs (They have won awards like Cathy Duffy's top101 picks, Practical Homeschooling's #1 science curriculum, and lots more).
This guide provides tools for you to choose what curriculum is right for you without becoming stressed or overwhelmed. Since different families have different needs, it doesn't recommend any one specific curriculum for everyone – it guides you to intelligently make your own choices through getting answers to the right questions.
Also, she is about to release a new mini-curriculum program on the science of lasers. It includes step-by-step lessons on video plus a student workbook. She wants to also like to give this to you for free (When it's released it will sell for $30). She wants your feedback before it is released it to the rest of the world.
For the time being, you can download both the curriculum guide and the mini-curriculum on lasers for free here:  www.superchargedscience.com/opt/homeschool-giveaways-curriculum-guide-opt-08-2014/
Download these now because they will make your job easier AND give your kids a better education when it comes to teaching science.
Carrie is the owner & operator of Homeschool Giveaways. She has been homeschooling for over a decade and has successfully graduated her first homeschooler. She has two girls and works side by side at home with her awesome husband. She has been saved by grace, fails daily, but continues to strive toward the prize of the high calling of being a daughter of the Most High God.