Grab these 2 resources worth $14.98 for just 4 days only at Intoxicated on Life! These books will be sure to encourage and equip you in your marriage and homeschool journey.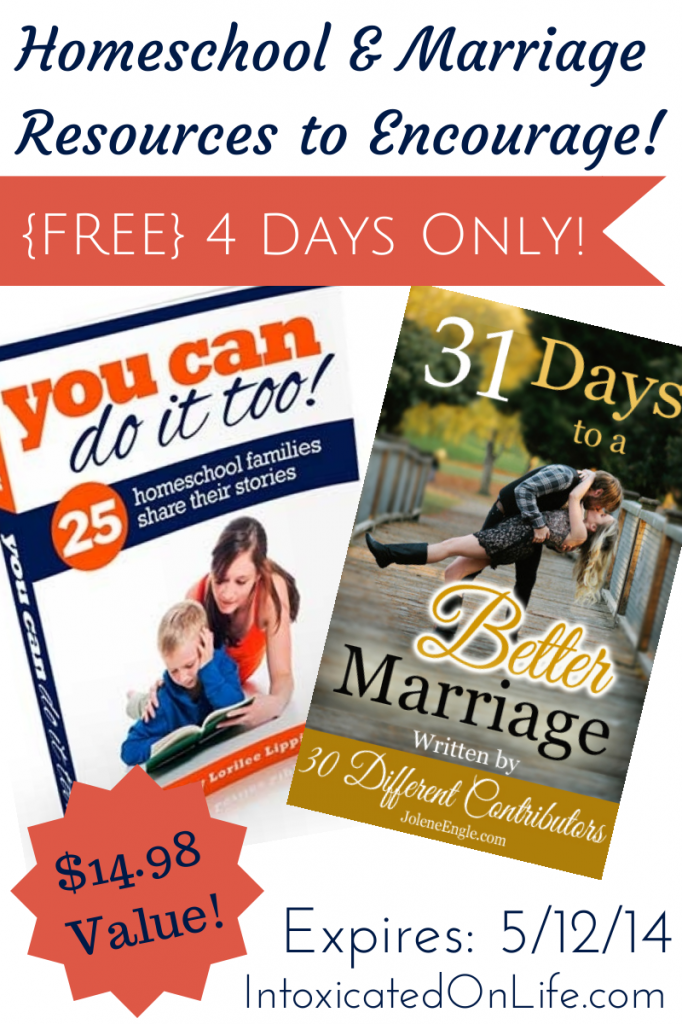 You Can Do It Too! 25 Homeschool Families Share Their Stories ($9.99 retail value)
Not sure you could homeschool? This book is for you! Afraid you don't have the education or patience? This book is for you! Curious about what it looks like day-to-day? This book is for you! Overwhelmed by homeschool options? This book is for you!
You Can Do It Too! is a series of interviews with 25 homeschool families answering questions of 'Why do you homeschool?' 'What does it look like?' 'How do you find what to teach? 'What do your kids think?' and much more. Our goal is to share with you the hows and whys—the successes and failures.
This book isn't: This book isn't a book comparing homeschool, public school, private school or other education options. The authors are not going to tell you what is best for you or your kids because they don't know you or your options. The goal of this book is to let you see the nuts and bolts of what homeschool is and make sure you know it is an option for you.
31 Days to a Better Marriage ($4.99 retail value)
This is an eBook based on a 31-day blog series hosted by Jolene Engle. This book has 30 different bloggers sharing their stories to help equip and encourage their fellow sisters in Christ through sharing our pains and struggles, our triumphs and lessons learned, and just our hearts for a Christ-centered marriage.
You'll hear from wives that weren't saved before they married, wives who are married to unbelievers, and pastor's wives. You'll learn about wives who have gone through hardships such as: years of a messy marriage, financial turmoil, adultery, pornography, the death of a child, living with cancer, deployment, and much, much more.
Carrie is the owner & operator of Homeschool Giveaways. She has been homeschooling for over a decade and has successfully graduated her first homeschooler. She has two girls and works side by side at home with her awesome husband. She has been saved by grace, fails daily, but continues to strive toward the prize of the high calling of being a daughter of the Most High God.