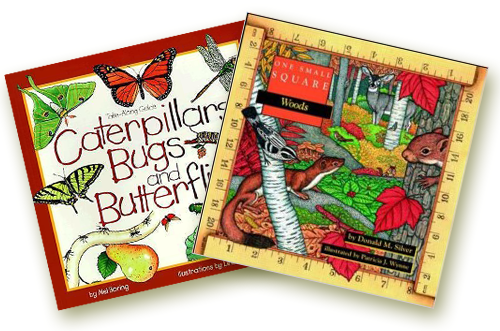 It's Free Book Friday over at Joyous Notions! Enter through Tuesday, March 11th to win two of their favorite nature books!
Caterpillars, Bugs and Butterflies explores the world of insects, caterpillars, and butterflies including identification information, educational activities, and fun
facts. (Take Along Guides)
One Small Square – Woods helps young readers unlock the closely guarded secrets of the woods­­ from the strange meetings of lazy butterflies, to the miraculous "walking" of a twig, to the riddle of why the leaves turn color and fall. One small square at a time, these "detectives" plunge deeper and deeper into ancient mysteries­­ without ever getting lost. Beautifully illustrated, Woods offers a picture field guide, a glossary-index, and a resource list.
Carrie is the owner & operator of Homeschool Giveaways. She has been homeschooling for over a decade and has successfully graduated her first homeschooler. She has two girls and works side by side at home with her awesome husband. She has been saved by grace, fails daily, but continues to strive toward the prize of the high calling of being a daughter of the Most High God.