Have you heard of Bright Ideas Press? They are one of my absolute favorite publishers. I work with them on a professional level and they are an outstanding family and company of a well earned reputation!
When you subscribe to their email newsletter they send out monthly goodies, like the freebie below. Although I sell their products at Hearts at Home Curriculum Store for 30% off, they offer some great resources available ONLY on their website, such as:
We have reviewed a bunch of Bright Ideas Press products at our curriculum store. Mystery of History, All American History, Christian Kids Explore Science, & A Young Scholars Guide to Composers.
Enjoy this freebie from Bright Ideas Press! If you want more freebies  & disconts in your inbox, subscribe to their newsletter.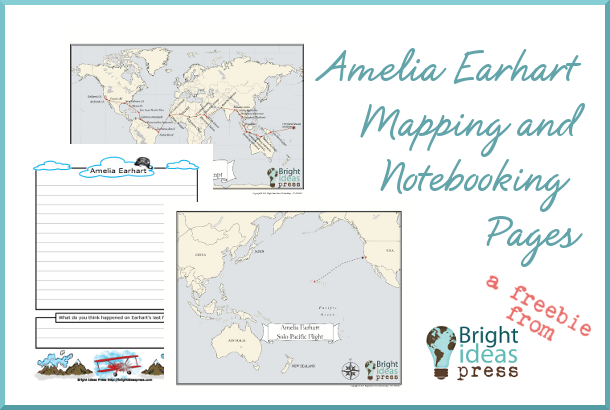 On Jan. 11 Amelia Earhart became the first woman to fly solo across the Pacific Ocean. To commemorate her great achievement the Bright Ideas Press freebie this month is a set of mapping and notebooking pages for Amelia Earhart.
The PDF includes three maps: Earhart's solo Pacific flight, her solo transatlantic flight, and her circumnavigation attempt. Each map has a full answer key and a blank page for a student to fill in.
Carrie is the owner & operator of Homeschool Giveaways. She has been homeschooling for over a decade and has successfully graduated her first homeschooler. She has two girls and works side by side at home with her awesome husband. She has been saved by grace, fails daily, but continues to strive toward the prize of the high calling of being a daughter of the Most High God.