Not sure how many of you have heard of, or tried Time 4 Learning, but they have a SUPER deal going on right now that offers a FREE Gift! Take a Tour and see what you are missing! Looking for a Summer School Program that will enhance your homeschool without being burdensome? Check it out!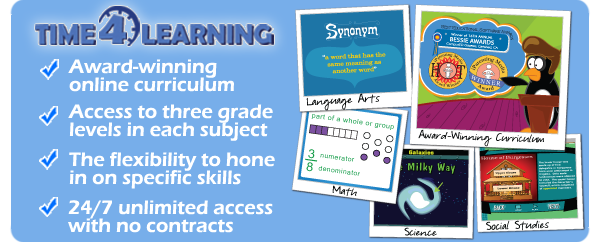 Pre-Summer Special!
As the school year ends, parents often have conflicting feelings about education and summer vacation. Studies show that kids who don't exercise their minds during the summer tend to backslide, but they work so hard during the year that they deserve a break. Give your kids a fun AND productive summer with the help of Time4Learning.
Kids love the "outside-the-box" approach and the novelty of using the computer for school. Parents can relax knowing their kids can use Time4Learning on vacation, at camp or in the comfort of home. This means everybody wins.

Time4Learning has helped tens of thousands of families. Why not yours?
Carrie is the owner & operator of Homeschool Giveaways. She has been homeschooling for over a decade and has successfully graduated her first homeschooler. She has two girls and works side by side at home with her awesome husband. She has been saved by grace, fails daily, but continues to strive toward the prize of the high calling of being a daughter of the Most High God.