This is part of the FREE Resources and Ideas To Use With Apologia's Young Explorer Books Series <--Click to view all posts in this series!
Exploring Creation With Chemistry and Physics is the latest book in the Apologia Young Explorer Series!

Chemistry and Physics can be a lot of fun! With this book, you don't have to wait until the Middle School and High School Years to teach it to your children!

This K-6 homeschool science curriculum uses the Charlotte Mason methodology to give young students an introduction to the fascinating world of chemistry and physics. It is a wonderful way to teach your young students just how God made everything in the universe. Jeannie Fulbright presents a scientifically sound and God-honoring study that covers atoms, molecules, simple chemicals, laws of motion, electricity, magnetism, and simple machines.
There are a lot of fun ideas to go with this book!
FREE Printables:
Element Bingo
Element Wordsearch
What is Matter? Labeling Worksheets
Printable Periodic Table of Elements
The Periodic Table of Elements in Pictures and Words
Chemistry Unit Study and Lap N Note Student Guide
FREE Periodic Table of Elements Lapbook 
Periodic Table Mini Books
Introduction to Chemistry Lapbook

FREE Foam Dart Physics Unit from Enchanted Homeschooling Mom
Changes in States of Matter Printable Worksheets from Five J's
Chemistry Periodic Table of Elements Printable Notebooking Pages by Marine Corps Nomads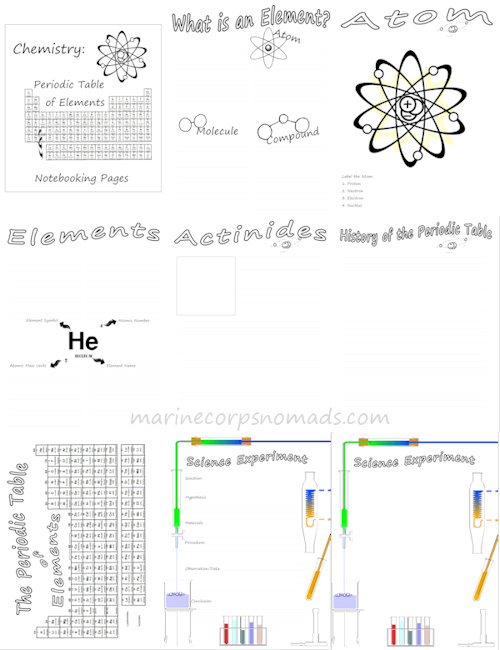 I love Ellen Mc Henry's Basement! She has an entire page of Chemistry printablaes and Physics Resources!  There are some really neat printable games,  crafts,  and more!

For the Lego Lovers and upper elementary students there is a printable Lego Chemical Reaction Unit Study Activity from MIT!

Jefferson Lab has an entire section of online interactive Element Games and Puzzles

Fun Activities, and Crafts that all ages will enjoy:

PVC Pipes Physics Water Table

Lid Art Magnets
– art activity for the magnetism portion of the book
Rocket Pinwheel Activity
 (physics)
Jumping Coin Science Experiment

Popsicle Stick Chain Reaction

Cheerio Molecules

Melting Ice With Salt
A Fizzing Good Tea Party – Color and Chemistry Experiments Designed As Play!

This are some amazing resource to use when studying Chemistry and Physics:

You won't want to miss the rest of the posts in this series:

Free Resources and Ideas To Use With Astronomy
Free Resources and Ideas To Use With Botany
Free Resources and Ideas to Use With Zoology 1: Flying Creatures
Free Resources and Ideas to Use With Zoology 2: Swimming Creatures
Free Resources and Ideas to Use With Zoology 3: Land Animals
Free Resources and Ideas to Use With Anatomy and Physiology
Need An Affordable Approach to Learning?