This is part of the FREE Resources and Ideas To Use With Apologia's Young Explorer Books Series <--Click to view all posts in this series!
We love the Apologia Young Explorer Series. When we first started using this, the fabulous notebooking journals did not exist. I had to find my own resources to create lapbooks and notebooks. We have saved you a ton of time and rounded up all sorts of freebies to enhance your time with Exploring Creation with Astronomy.

Description of Exploring Creation with Astronomy (from Apologia website):
This book begins with a lesson on the nature of astronomy, and then it covers the major structures of our solar system. Starting with the sun and working towards Pluto, the student will learn details about all nine planets (or is it eight? – your student will have to decide) in the solar system. Along the way, the student will also learn about Earth's moon, the asteroid belt, and the Kuiper belt. After that, the student will move outside our solar system and learn about the stars and galaxies that make up God's incredible universe. Finally, the student will learn about space travel and what it takes to be an astronaut!
Here are some great FREE resources and ideas to use when studying Astronomy:
Printables:
Map of the Moon and Moon Facts Poster
Summer Constellation Map Northern Hemisphere
Planet Cards and Constellation Lacing Cards
Printable Star Finder
Solar System Worksheets
Solar System Comics – Earth and Mars
FREE Space Pack from 3Dinosaurs
FREE Constellations Sewing Cards
FREE Printable: Solar System Model

Fun Activities ~ alot of these can be used with your little ones that are too young to do Science, but can still participate with the activities:
The Solar System in Snack Form
Oreo Cookie Phases of the Moon
Constellation Cookies
Constellation Art With Rocks and Sidewalk Chalk
DIY Constellation Light Box
Erupting Moon Dust – to keep little ones busy during Science
Moon Dust Paint Recipe 
Make Your Own Milky Way Model
Sundial Activity
Launch a Rocket from a Spinning Planet
Neil Armstrong Activity
Make an Oatmeal Container Planetarium
Moon Phases Animation from Interactive Education
Here are some affordable options available through Currclick to print and create your own lapbooks or notebooks:
Here are some great resources to take a look at:
Kids Telescope, DIY and Detachable Telescope for Beginners, Early Development Science Toys, Three Different Magnification Eyepieces, Finder, Sky Observation, Light, Tripod, Easy Operation by Xshop
Telescope for kids Educational Kids Science Telescope Plastic Toy for Beginners 3 Magnification Eyepieces and Tripod Enjoy Steady Observation of Astronomy By Toyerbee
Educational Insights GeoSafari Jr. My First Telescope
50 Things To See With A Telescope – Kids: A Constellation Focused Approach
My daughter took the Experience Astronomy Course in 9th grade and really enjoyed it. They now have an elementary version as well. You can read our review here.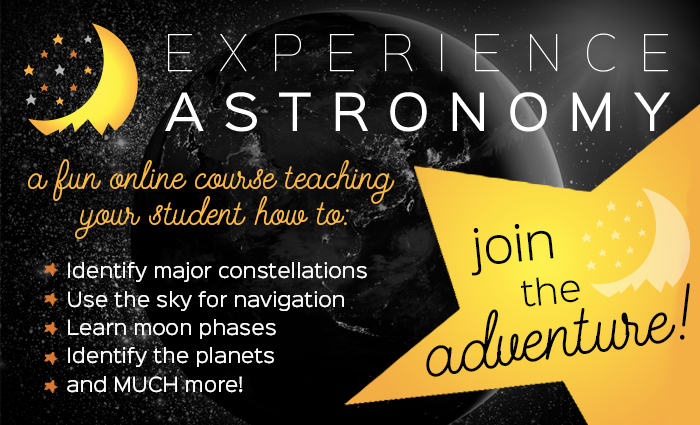 Click here to view the resources for the other volumes in the Apologia Young Explorer's Series
Need An Affordable Approach to Learning?