It's Give Away Time!!! 
Have you seen this new series put out by the creator of Veggie Tales? It's called "Buck Denver Asks What's in the Bible" and takes kids (and adults) cover to cover through the Bible. Buck Denver is a News Man who is curious about the Bible. I must say, I have learned so much from watching these videos and so have my kids (ages 2, 4, 7, and 9). It holds the attention of each one of them in a different way.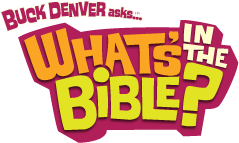 Need An Affordable Approach to Learning?